Chairman Hiromichi Kimura Biography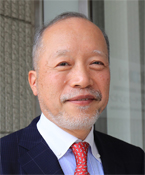 Current position:
Project Professor, Life Style by Design Research Unit, Institute for Future Initiatives of the University of Tokyo
Visiting Professor, Graduate School of Pharmaceutical Sciences, The University of Tokyo

CAREER HISTORY:
After receiving his Ph.D. in pharmaceutical sciences from the University of Tokyo in 1979, Dr. Kimura started his career as a manager responsible for clinical trials and new drug approval at the pharmaceutical division of Kyowa Hakko Kogyo in Tokyo.  He was selected to attend the Graduate School of Business at Stanford University, where he received an MBA in Management and International Business.  After returning to Japan, he became a manager responsible for licensing and strategic alliances with foreign pharmaceutical and biotechnology companies.
In 1986 Dr. Kimura joined J.P. Morgan as Vice President, Financial Advisory and Mergers & Acquisitions Division, Tokyo and New York with responsibility for cross-border M&A transactions in the pharmaceutical, high- tech and chemical industries as well as industry analysis within the pharmaceutical industry.
Dr. Kimura joined Pharmacia K.K. in 1989 as Executive Vice President, a member of the Board of Directors and Biotech Division Head.  In 1993 he became President and CEO of Pharmacia Biotech K.K., and President and CEO of Amersham Pharmacia Biotech K.K. in 1997.  From 1998 to 2000, Dr. Kimura was the President and CEO of Monsanto Japan Ltd. He founded his own consulting firm, Life Science Management Inc. (Now: FTI Innovations Inc.), in 2000 and a life science / healthcare venture capital firm, Fast Track Initiative Inc., in 2004.  He serves as President and Chief Executive Officer of both firms today.  In 2002, He was appointed as a Project Professor of the University of Tokyo and became a Visiting Professor in 2016. 
He is a Project Professor of Life Style by Design Research Unit, Institute for Future Initiatives of the University of Tokyo since 2018 November.
Lecturer at the University of Tokyo Executive Management Program (EMP).
He is a Project Leader of Center of Open Innovation Network for Smart Health (COINS), The Center of Innovation (COI) Program, and an organizer of Keizai Doyukai (Japan Association of Corporate Executives) and the Board of Directors of Stanford Alumni Association in Japan.
Specialty:
Life Sciences, Pharmaceutical Industry Management Theory, Healthcare Industry Management
At the University of Tokyo, we will identify issues and needs that originate from the diverse lifestyles of sei-katsu-sha, conduct research on methods for solving and satisfying those needs, and aim to implement the results of that research in society.